Read real reviews written by our customers
★★★★★
Looks beautiful Ben and thank you for getting it to me before the 30th. Really appreciate your craftsmanship and excellent customer service. Thank you Ben.
Adrian.G
USA
★★★★★
The ring is just perfect! I couldn't have wished for anything more. I cant wait for the matching wedding ring to arrive. Great choice from Elliott and beautiful job from you!
Fran & Elliott
UK
★★★★★
She said yes! The ring is beautiful, and is exactly what I was hoping for… she also really likes it. Thank you very much for your work on this and making this a special ring for us. I am very satisfied.
B.Miller
USA
I had a very good experience with my custom order. Ben did such a great job and the rings are amazing.
PERFECT! Beautiful, unique ring and just what I wanted. When looking at rings to give my boyfriend ideas, I saw this ring and couldn't find anything I like better anywhere. I said, Yes of course! I do have to say my fiance was worried about ordering off of etsy and not from Jared or another big chain, but he was more than happy with the work of art he received. I catch him staring at the ring on my finger! Both rings came beautifully packaged and quickly! We can't wait to put that second ring on my finger! Thank you so much Ben!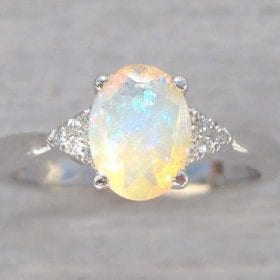 I am the recipient of this gorgeous ring that my now fiancé (Zel) proposed to me with. It is the most beautiful ring I have ever seen and the stone is so dreamy to look at. It subtly picks up colors under lighting and I can't stop looking at it! This will be treasured forever and become a family heirloom for generations to come for sure!
It has been years since I purchased jewelry for my wife. I've never been able to find the right items that suited her. I finally decided to give it another try and find some special for our 10 year anniversary. I'm happy to report that I finally got it right with this antique sapphire ring from Benati. She loves it. Thank you Ben for the excellent craftsmanship, for resizing the ring after I ordered, for the friendly correspondence, and fast shipping.
I bought a pre-made design from Benati for my fiance's engagement ring, and we loved it so much we decided we wanted to have custom designs made with related motifs for our actual wedding rings as well.
We had really specific ideas in mind for the custom designs, and Ben was extremely patient and accommodating, going through multiple rounds of revision with us on the designs. He was very easy to work with and understood exactly what we wanted as we explored the designs. The rings turned out beautiful! We couldn't be happier.
Overall, we are very pleased with our experience working with Benati and if you are looking for a personalized design for a ring, I highly recommend Benati.
Absolutely in love with my ring! Was originally skeptical about ordering such an important item like a wedding band on etsy, but after contacting Ben, he dispelled all of my concerns. He was in contact with me as he was making this ring and let me know when it shipped. It shipped super fast and even arrived a day earlier than expected.
My fiance and I love the ring and have never seen a mens wedding band as unique and special as this one. My fiance is even considering getting the same one now!
Can't wait to get married and wear this every day!
Buy with confidence, we are very proud of our average item rating ★★★★★ (1130+)
Be Inspired On Instagram
Tag us #benati_jewelry