In a hurry and want a quick and easy way to measure your ring size?Jump to method 3 in our list.
Introduction
The ring is one of the most beautiful and memorable gifts to give or receive. It is not only unique and meaningful but also increases one's beauty. This is the reason whenever there is "love in the air", thoughts go towards purchasing a ring to symbolize these feelings of affection. The meaning and beauty that are attached to it are far-reaching and priceless. This is the reason there is no concept of marriage or a deep relationship without the ultimate symbol of love – a ring!
This necessitates that there should be some way to figure out the perfect ring size of your or your girlfriends finger. In general, US/Canada/Mexico ring sizes are from 3 to 14. The average women's ring size is 5 to 7 while the men's average ring size is often 8 to 10. Furthermore, sizes 6, 6½, and 7 are the most common ring sizes for women while for men it's 8, 9 and 10.
In the UK/Ireland/Australia/New Zealand ring sizes are in letters. Usually between sizes F to Z. The average size here is between J½ to N½ for the ladies. For men it's P½ to T½.
Each person has a different ring size, so no more guessing! Let's get down to accurate measuring, to promise a comfortable fit! This following article will consider various options, and the ideal ways for you to measure and know your ring size in the most accurate way.
Available Options How To Find Your/Her Ring Size
There are many ways to find the ideal ring size. First, there is the traditional option – to simply go to the local jewelry store or market. Look at various ring designs, while looking at different widths as well. Try them on to see what's the most comfortable fit. It is most likely you are going to get a good idea which ring size and width fits your finger and suits your style and personality best.
With that said, gone are the days when one would have to go through so much trouble and hassle to find the needed ring size and dream ring. The Info-tech revolution has brought a tremendous transformation in the world and today we do not physically need to go out for such things, as online shopping is the preferable option. We can save our time, energy and money and do it the easy way all from the convenience of our home. This makes it necessary that we know our actual ring size and if we do not, we need to figure it out easily. Well, aren't you lucky? We now have many simple ways to figure this out accurately. Here are the 5 most widely used ways to find your or her ring size:
1. The Use Of A Metal Or Plastic Ring Sizer
The standard, most accurate and bullet proof method is the use of a jewelers ring sizer. It is a very common tool jewelry manufacturers use to measure a ring size from women and men. Usually it is a stainless-steel ring-like structure with marked measurements for each size. All one needs to do is to put it on the wanted ring finger, test a few rings and find the one that is most comfortable. When looking closely at the ring, it has numbers/letters engraved on every ring describing the exact ring size needed. Take a note of the ideal size for future reference.
If it's been a while from your last finger measuring, I would recommend measuring again. This is due to our ring sizer changing within our lifetime. Our ring size can be affected by our diet (gained or lost weight), pregnancy, the weather and more.
These are preferable means nowadays because they are not very costly, and the measurement is extremely reliable as well. The same set of measuring rings is available in plastic, being very reasonable and from my experience they are accurate. The plastic ring sizer is available widely on the internet, and it's very easy to purchase and receive within a very short time – delivered straight to your door.
Today the metal and plastic ring sizer's are the standard measuring tools. They are considered the most accurate and reliable options available, more than any other, simply because it is especially made for this purpose coupled with the fact that it is cost-efficient.
2. Measuring A Ring You Already Have
This simple, easy and accurate way to find your/her ring size is by putting the ring you already own, or taken from your girlfriend while she's sleeping – and put it on a millimeter ruler. Then measure the inside diameter (length) from the left to right, inner side of the ring (without counting the rings thickness). Count how many lines – millimeters are there and using the following chart you can now know the rings size. You will be surprised how accurate this technique is!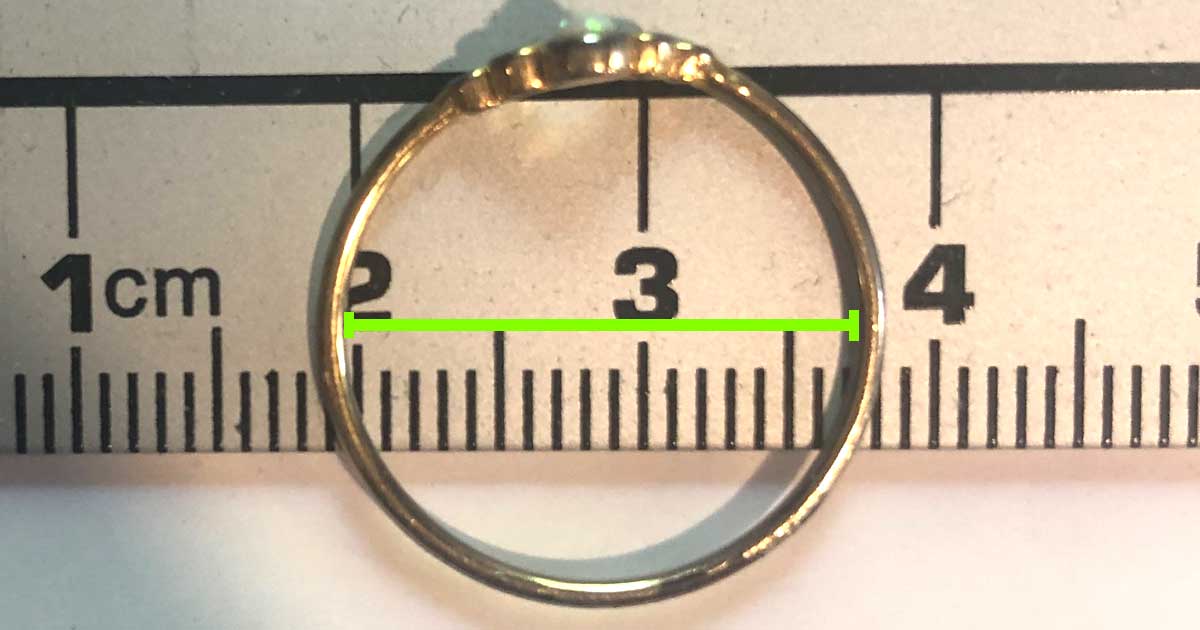 You could alternatively put the ring on your finger and mark with a pen where it fits. You can later on use the metal or plastic ring sizers to find which ring sits in the same marked location on your finger. It can help in two ways. Firstly that you are well aware of how loose or tight it is and the possible variance in the size like if the ring you are using is fine but feel like it is a bit tighter you can increase the size from supposing 6.5 to 7. Also, if the ring is loose now, you can wisely surmise that the new ring needs to be a bit more to fit better.
The last variation of this route would be taking the ring, and placing it over the rings with sizes like in following graphics. You will need to place the ring over the circles, just so they meet with the inner diameter of your ring. This will give you a rough estimate for the size of the ring you are holding. Give it a try, I am sure you will find it easy to do!
3. How To Know Your Ring Size – The Paper Strip Method (Quick and Easy)
The simple use of a pen, scissors, millimeter ruler, and strip of paper that is long enough to wrap around your finger. This is another simple and quick method that does not require the use of any professional jewelers tools. You simply wrap the strip of paper around your finger – not too tight, not too loose, and mark with a pen where the paper overlaps. Then place the paper strip over a millimeter ruler and measure the length of the paper strip and write down the length. Match the result with our ring size chart to find out what is the US or UK ring size.
You're not finished yet – This next stage is extremely important to get it right, and most closely as possible to an accurate fitting – once you have the ring size from the chart, you will need to deduct approx. 1½ to 2 sizes less from the result. I know it sounds weird but the reason for this is that with this method you need to take into consideration the thickness of the ring, which can be around 1.5mm-2mm.
Whereas with paper it's not taken into calculation, as standard paper thickness is just a few single microns. Therefore it will result in a wrong ring size. Finally, you have figured out the correct ring size. This method is a fun, no cost, easy and quick technique to use at home or at the office.
The calculation: Paper length (Inside Circumference in chart) converted to US ring size -2 sizes (minus two ring sizes) = your correct ring size.
Ben's tip: The paper measurement technique is good, but not the most accurate option. If you are purchasing an important/expensive ring like an engagement ring or a wedding band, I would highly recommend measuring your/her ring size with a set of metal or plastic ring sizer.
4. Printing Out A Ring Sizer
Another notable method is to print out a ring sizer from your computer at the convenience of your home. This path can be an additional option to verify the previous ones. You will need to make sure to print out our ring sizer at 1:1 ratio and verify it's not printed at 'scale to page' otherwise the measuring will be inaccurate.
Read all the instructions carefully. Cut out the ring sizer, then insert the edge into the slot and carefully wrap it around your desired finger. Look at the resulting number – smile, now you have it! It's as simple as that. Note it may not need much physical tightening. This option is reasonable in accuracy, however not the ideal way to go for the perfect fitting size since it requires your printer being correctly aligned with the paper's measurements, and there is room for inaccurate measuring if not done properly.
Click here to use our printable ring sizer
5. The Use Of String
One of the common ways to find your ring size is the use of string. As string is easily found in most households – It makes this an amazingly simple and rather effective method as it is neither complicated nor costly. All you need to do is have a small piece of none stretch string (like dental floss cord) and snugly wrap it around the position of the ring finger.
It is important to note that it should fit your finger in a way the ring does not hurt or damage you if one wears for a long time. So not too tight on the measuring. The wrapping of the cord should be fine-tuned and comfortable. The size of the ring should neither be too loose nor too resistant. With a little resistance – one should be able to slide the ring over the knuckle.
You can now mark the overlapping of the string with a pen, or cut it with small scissors. Once you have the string, place it over a millimeter ruler and measure how long the string is in millimeters. You can now compare the length with the ring size chart (view below) to determine the needed ring size.
Important note: like in the paper strip method, the string hardly has any thickness compared to a ring. Therefore, you will need to take this into account. Reduce the resulting ring size by 1 1/2 to 2 US sizes. Meaning if you measured the string and it translates in the ring size chart to US ring size 8, you would actually need a ring size 6 or maybe 6 1/2. 
Apart from that, you may need to consider your knuckle size as well. Sometimes the knuckles play a role in the measuring equation, if they are bulging, this can cause misfitting of the ring. That is why we like to verify the accuracy of the measurement by doing at least two different types of measuring from this list to confirm the ring size is consistent.
Ben's tip: I recommend repeating the process at least twice to verify the accuracy of the measurement.
Conversion Chart For Ring Sizes – By Benati
Inside Diameter
Inside Circumference
Ring Sizes By Country
mm
mm European Size

Paper/String Length
United States, Canada, Mexico
United Kingdom, Ireland, Australia, South Africa, New Zealand
China, Japan, South America
Italy, Spain, Switzerland
14.07
44.2
3
F
4
4.25
14.27
44.8
3¼
F½
5
4.75
14.48
45.5
3½
G
5.5
14.68
46.1
3¾
G½
6
6
14.88
46.8
4
H
7
6.75
15.09
47.4
4¼
H½
7.5
15.29
48.0
4½
I
8
8
15.49
48.7
4¾
J
8.75
15.70
49.3
5
J½
9
9.25
15.90
50.0
5¼
K
10
16.10
50.6
5½
K½
10
10.5
16.31
51.2
5¾
L
11.25
16.51
51.9
6
L½
11
11.75
16.71
52.5
6¼
M
12
12.5
16.92
53.1
6½
M½
13
13.25
17.12
53.8
6¾
N
13.75
17.32
54.4
7
N½
14
14.5
17.53
55.1
7¼
O
15
17.73
55.7
7½
O½
15
15.75
17.93
56.3
7¾
P
16.25
18.14
57.0
8
P½
16
17
18.34
57.6
8¼
Q
17.5
18.54
58.3
8½
Q½
17
18.25
18.75
58.9
8¾
R
19
18.95
59.5
9
R½
18
19.5
19.15
60.2
9¼
S
20.25
19.35
60.8
9½
S½
19
20.75
19.56
61.4
9¾
T
21.5
19.76
62.1
10
T½
20
22
19.96
62.7
10¼
U
21
22.75
20.17
63.4
10½
U½
22
23.25
20.37
64.0
10¾
V
24
20.57
64.6
11
V½
23
24.75
20.78
65.3
11¼
W
25.25
20.98
65.9
11½
W½
24
26
21.18
66.6
11¾
X
26.5
21.39
67.2
12
X½
25
27.25
21.59
67.8
12¼
Y
27.75
21.79
68.5
12½
Z
26
28.5
22.00
69.1
12¾
Z½
29
22.20
69.7
13
27
29.75
22.40
70.4
13¼
Z1
30.5
22.61
71.0
13½
31
22.81
71.7
13¾
Z2
31.75
23.01
72.3
14
Z3
32.25
23.22
72.9
14¼
33
23.42
73.6
14½
Z4
33.5
23.62
74.2
14¾
34.25
23.83
74.8
15
34.75
Print Our Conversion Chart For Ring Sizes Here
Conclusions
All these popular methods are in use depending on the time you have and the kind of options one has at the specifically given time. The most accurate, recommended and commonly used method is the metal or plastic ring sizer. When checking your ring size, make sure the size is neither too loose to slip off while washing your hands, or either uncomfortably too tight.
It is obviously very important to find your perfect ring size if you intend to buy a ring online. If you do it right from the beginning, It will save you time and money, because you won't need to send it back to the jeweler for resizing and back again.
Today there are many different ways to figure out the correct ring size. If you can't measure the finger using a professional jewelers metal ring sizer, I would highly recommend using the above options. Try at least 2-3 of these techniques to verify your ring size is consistent in all used options.
Good luck!
If you need any help with measuring your ring size, please contact me now.
You're welcome to pin this image for Pinterest: