When Should You Get An Eternity Ring?
An eternity band will make the perfect gift, as there is no other better physical token of love, that will represent your everlasting love. These rings are the greatest anniversary gift idea for married couples that want to keep the romance sizzling. They are definitely the perfect milestone gift idea for occasions like Christmas, birthdays, New born or Valentine's Day. From what we checked, It is one of the most popular gifts a lady would like to receive.
It's Time For It
Isn't it time for a bride to now choose and wear a personal meaningful symbol of her commitment, something that represents yourself, something that you just LOVE. You can buy yourself an eternity ring as a way to show yourself some love, and feel good about it!
Wear It Different
You will likely find that there are quite a lot of eternity band styles available. You can wear a ring that is classic, being an all diamonds eternity ring or go a different direction with something more unique, colorful and different with your birthstones or your children's birthstones. For example an opal eternity band for October celebrations.
Opal Eternity Bands
Opal gems are the way to go for your special someone if they want originality and style in their look. The round opal stones have plenty of colorful hues – more than you can imagine. All of the ladies who purchased them say they are extremely beautiful. They will make your finger look so elegant.
Our most popular eternity bands have opal gems. Why not enjoy a stylish mix of both worlds – A diamond and opal eternity band. Full of elegance that makes a romantic look, that will never go out of style.
We prefer to use synthetic opal in these small sizes for eternity rings, as these stones are more durable than natural opals. In these small sizes for eternity bands, the synthetic opals are much more colorful, bursting with play of color which makes them so mesmerizing.
Stand Out Of The Crowd
You were born to stand out, why not add a splash of color on your finger making your eternity ring stand out featuring colorful opal stones.
Eternity bands are a prized piece in any jewelry collection. If you don't have one yet, treat yourself to one, you deserve it. You're going to fall in love with this stunning milestone piece that simply goes with absolutely everything you wear.
Eternity Ring Metals
Our eternity bands are available in 14k and 18k solid gold, being either white gold, rose gold or yellow gold. Another fantastic option for white color metal, that is the best choice for sensitive skin is Platinum. Have you thought about what type of metal will be your next eternity band?
Custom Design Your Eternity Band
You are always welcome to contact us for personal assistance with creating your dream eternity band. If you can imagine it, we can make it. We have many years of experience in crafting custom design eternity bands. We specialize in custom designing eternity rings, engagement rings, wedding bands and fine jewelry.
Here Are 10 Of The Most Beautiful Eternity Bands:
Number 1 of 10
Opal and diamond eternity band
Number 2 of 10
Multi color opal eternity band
Number 3 of 10
3mm White opal eternity anniversary ring
Number 4 of 10
2mm Diamond and Opal eternity band
Number 6 of 10
Diamond and opal full eternity band 3mm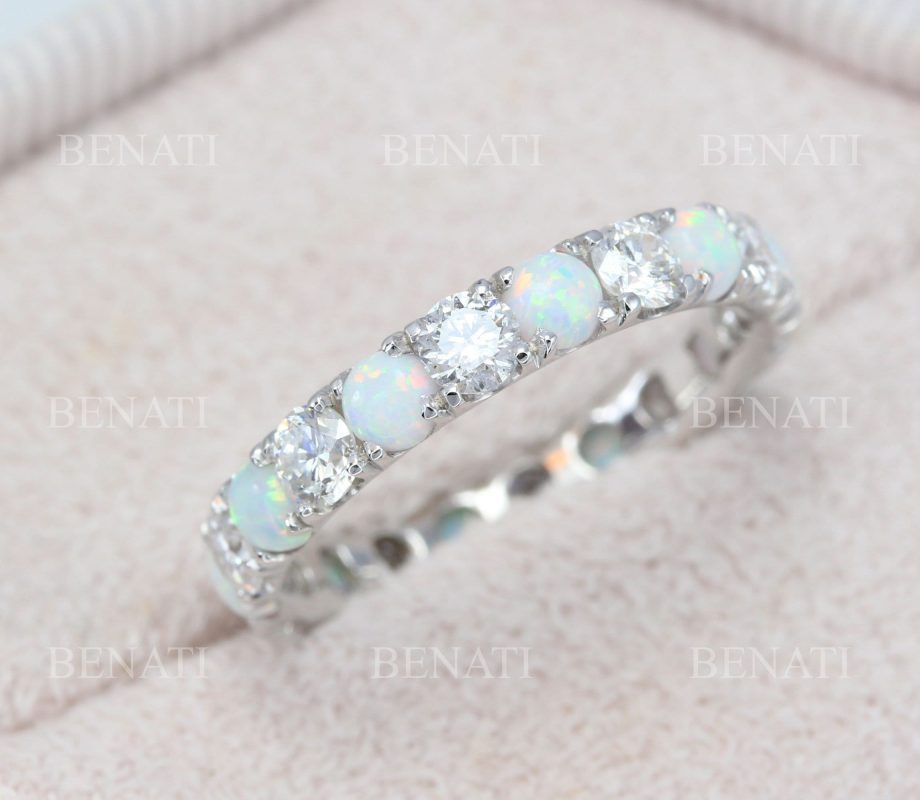 Number 7 of 10
Ruby and opal eternity ring
Number 8 of 10
Emerald, diamond and opal eternity band
Number 9 of 10
Half diamond half opal eternity ring
Number 10 of 10
Opal eternity band gift for anniversary