The Fascination of getting hooked… These days there's equality for men in the jewelry department! How much to spend, who treats, who buys the man's wedding band and where to buy that special meaningful symbol that's going to last a lifetime.
Well according to research in 2019 the approximate expense for mens wedding bands was $390-$550. Depending on the style, width, size, metal, weight, diamonds and gemstones, will all determine the price accordingly. The more traditional and simple the mans wedding band is, it will be more likely to find it cheaper. However, the more the design is unique and complex, it's likely going to cost a bit more than the average simple minimalist wedding band.
Getting Started
Probably best to set a budget and search accordingly. This will make the experience more enjoyable! A decision to purchase online with a website that has good recommendations and many 5-star reviews will help you from being nervous buying online and can be a good option to save some money as you will save from the high street store their overheads.
You'll consider style, band width, details, gold/silver/platinum/palladium and if you buy a ready design in stock, or whether it's customized to your requirements and personal wishes.
Some couples may want matching rings and some may rather have a ring to compliment but doesn't have to match exactly.
Before going straight for the standard simple traditional wedding band bowl, have a look at all the options available. You can find very unique wedding bands that will be interesting to wear, that will add personality and style to your look and presence. Have you ever heard of a mobius wedding band? These are very interesting rings that are gaining a lot of popularity in the year 2020. Read more about mobius rings here.
So Who Pays?
These days, in most cultures there seems to be three main practices that either the groom buys both wedding bands or more often his fiance will treat and present it as a gift. It's also popular for a couple to split the expense between them. If you are a traditionalist, it's nice to keep the old sentiments going and exchange rings. Most likely couples will go together and choose, or browse online and reach a mutual decision.
If one of the couple earns significantly more, then the breadwinner may do the honors. For the truly modern pair, the option to buy one's own ring with no consultation is also acceptable. Every couple is different and considering the wedding band is forever each one will want to be complete with his/her choice.
What Finger Should a Man Wear a Wedding Ring On?
Which finger to wear the wedding band? Most American and United Kingdom men will wear a wedding band on the left hand on the fourth finger, but in a marriage that takes place in an Eastern Orthodox church the man will wear his ring on the right hand.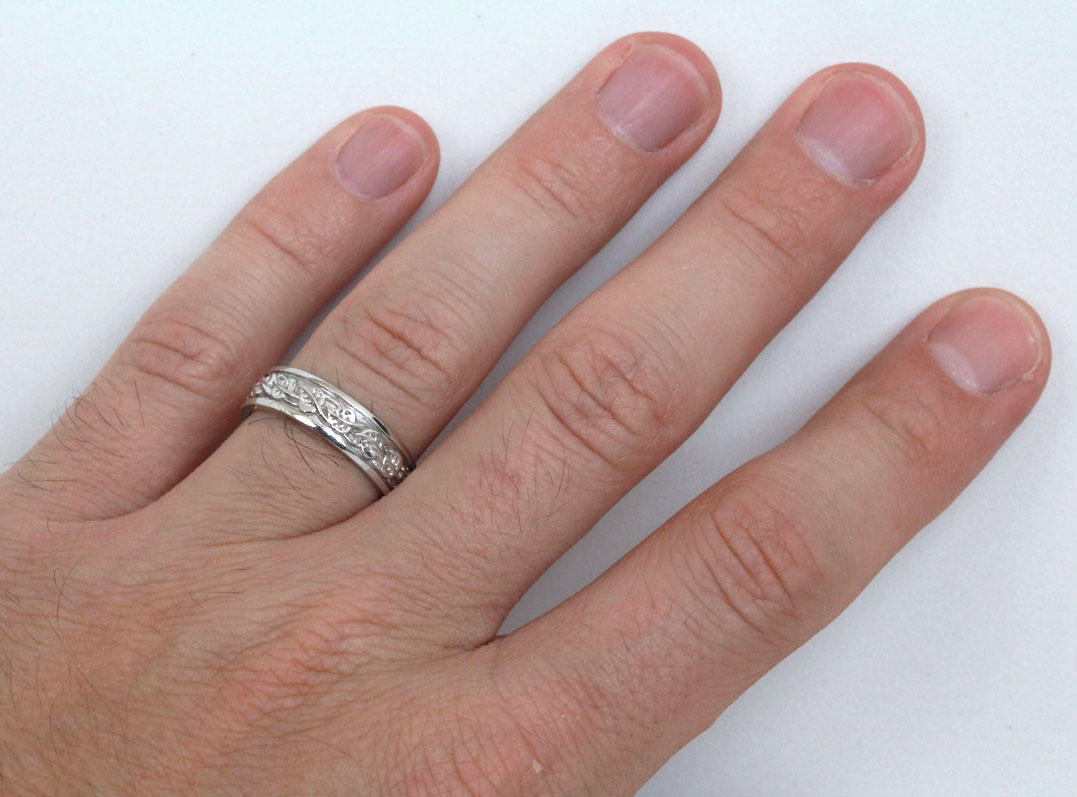 The ring finger was a popular choice as people thought there was a direct vein from the finger to the heart, it was known as the 'vena amoris' (in Latin) which means "vein of love", therefore it became the natural finger to wear a wedding ring on.
In some parts of the world, such as Eastern European countries and South and Central America the right hand was acceptable for wearing the mens wedding band. It's also more comfortable wearing a ring on daily bases on your less dominant hand – often the left hand. This allows your strong hand more freedom and convenience.
Men going to war in the early twentieth century frequently sported a ring to serve as a reminder of their beloved at home. Buying a wedding ring gained popularity when they were more affordable to buy. With today's online shopping it's easy to compare men's wedding bands and find the perfect ring and best deal.
Jewish Tradition
There is no obligation for a men's wedding band in the traditional jewish wedding ceremony. Often the bride will present the man's wedding band as a gift which will be given after the official ceremony conducted by the rabbi. The ring is sometimes presented outside the 'chuppah' ceremony to avoid conflicts with Jewish law.
You may find men's wedding bands inscribed with the words 'ani le dodi, ve dodi li', meaning, 'I am to my beloved as my beloved is to me', thus being the ultimate quote in Judaism in the love department. It comes from the book 'Song of Songs'.
Personalize The Wedding Band
It's popular to customize a wedding band with a personal engraving. With today's modern technology, engraving is often done by a laser machine, so you could even choose the type of font you would like to use. Often couples will want to engrave their initials with a heart between the letters, for example S ♥ D. or a personal romantic phrase like:
Her name & your name
My heart is yours
Always and forever
I love you
I'll love you, always.
Eternal love
For eternity
Forever
My soulmate
The wedding rings are a symbol of love for each other at all times, so take your time to be comfortable with your choice. If you're interested in reading more about this topic, read our 10 step men's wedding band guide.
We at Benati pride ourselves on our solid reputation keeping our happy couples even happier with liaising though the process of getting the rings just right.
Written by Sharon Shani for Benati. All rights reserved.